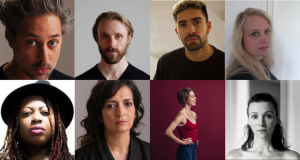 From October 16 to 20 2023, the National Circus School celebrates another week of creation, marked by innovation and creativity. This year, four duos of talented creators will collaborate with our students to stimulate their creativity and develop their artistic versatility. 
Over the course of a week, each creative duo will create three presentations, each lasting 10 minutes, in collaboration with different groups of students. No theme is imposed, as long as the creation is rooted in the circus universe and the student's specialties. The shows will take place on Monday, Wednesday and Friday at the School, offering a unique opportunity for the school's members to discover these original creations. These performances will be followed by feedback sessions essential for learning and artistic development.  
This year, the 5 teams will be led by Spicey Landé, Catherine Girard and 3 duos including Helena Bittencourt and Goos Meeuwsen, Ruben Ingwersen and Sabine Van Rensburg, and Anna Vigeland and Neil Sochasky. 
Spicey, a well-known hip-hop choreographer from Montreal, has created memorable works such as Retrospek (2008) and Complexe R (2015). As a multidisciplinary artist, she shares her expertise through workshops and events, while supporting the next generation with the B-Side event since 2019. 
Catherine Girard, a circus enthusiast for over 20 years, has collaborated with renowned companies such as Cirque Éloize, Cirque du Soleil and Cirque Alfonse, appearing in various performances around the world. 
Helena Bittencourt and Goos Meeuwsen are both performers who have made their mark on the world clown and theater scene. Goos Meeuwsen studied at the NCS (2004) and took part in productions such as Cirque du Soleil's Love, The Beatles. Helena Bittencourt joined the Cirque du Soleil cast for Corteo and participated in the creation of Donka, A Letter to Chekov. In addition to their collaborations, Goos and Helena have created their own shows, winning awards for their short films and taking part in Cirque Bouffon productions in Germany in 2023. 
Ruben Ingwersen (2019) and Sabine Van Rensburg (2018), both graduates from the NCS, bring their passion and versatility to the world of live performance. Ruben is an accomplished circus artist, having worked with renowned companies such as Cirque du Soleil Events + Experiences and Les 7 Doigts, performing on stages all over the world. Sabine Van Rensburg is a versatile circus artist who has left her mark as creative co-director of innovative projects such as MOYA and BIOPHILIA. 
In the captivating world of performance art, Anna Vigeland and Neil Sochasky form an exceptional artistic duo. Anna is a multi-talented circus artist whose career has spanned several roles since graduating from ÉNC in 2007. She has explored everything from performance to choreography, and research to facilitation. Her recent artistic creations are marked by her passion for memory, history and translation in the context of the performing arts. 
Montreal-based dance artist Neil Sochasky has worked with various dance and theater companies in Canada and France, bringing his expertise to this week of creation.