Montreal, January 28, 2016 – Daniela Arendasova, Director of Studies and Acting Executive Co-Director of the National Circus School in Montreal, will preside over the jury at the thirty-seventh Festival Mondial du Cirque de Demain held in Paris from January 28 to 31. The Festival, one of the world's most prestigious circus competitions, each year celebrates the talent of young circus artists from all continents.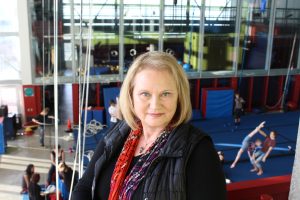 For close to 25 years, Daniela Arendasova has guided students' progress at the National Circus School where she developed the complete range of circus artist training programs. In parallel, she continues to serve as a judge of rhythmic gymnastics for major national and international competitions. Ms. Arendasova will head a jury comprised of 10 circus arts specialists: teachers, artists, directors, producers and talent scouts.
Over the years, artists who are in training or once trained at the National Circus School have consistently won top honours at the Festival. More than 50 NCS students and graduates to date have gained distinction by winning 40 medals and special prizes, including 8 gold, 17 silver and 10 bronze medals.
The National Circus School once again will be well represented at the competition. This year, six graduates were selected: Jérémy Vitupier and Antonin Wicky (2015 graduates) – clowns, Ronan Duée and Dorian Lechaux (2015) – monocycle duo, Julien Silliau (2009) and partner Emilie Silliau – Chinese pole, and Anny Laplante (2011) and partner Andrei Kalesnikau – Russian cradle.
About the National Circus School
Founded in 1981, the National Circus School is a high school and college institution with a primary mission to prepare professional circus artists. It has trained close to 500 artists, many of whom have won top prizes at prestigious world festivals, making the institution an international reference in the field. A pioneer of the new circus movement in Canada and North America, the National Circus School has contributed to the emergence of many renowned circus companies, including Cirque du Soleil, Cirque Éloize and The 7 Fingers.
-30-
Contact : Christophe Rousseau, National Circus School
Information : Karine Cousineau Communications
P. : 514 382-4844
[email protected]