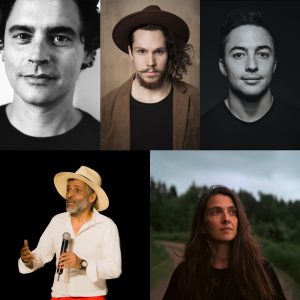 This year's National Circus School Creation Week will host five talented creators with a unique vision. The week will take place from the 17th to the 21st of October and will aim to open the students' minds and immerse them in as many different creative worlds as possible. During this exercise, students will learn to develop their artistic creativity and versatility through close collaboration with designers.
The creators, all from different fields, have accepted the challenge of creating three 10-minute presentations in one week. Each guest will work with a group of students from different cohorts for each presentation. The designers will have one day to make their first presentations and then two days for the next two. There is no theme imposed on them, as long as they meet their students' circus disciplines.
On Monday, Wednesday and Friday, the shows will be presented on the School's premises to an internal audience, followed by a period of feedback and comments. This period is crucial in order to look back on the creative experience and learn from it.
Reflecting the diversity that is characteristic of the circus arts, NCS is honored to collaborate with creators from diverse artistic backgrounds who have agreed to participate in this creative process with our students.
For this 2022 edition, the NCS has first invited two former graduates to return to the School to share their knowledge and experience. Vincent Jutras (2016) and Bobby Cookson (2020) have both toured with major circus companies and will be able to use their experiences to inspire the students in their creative process.
Circus artist, choreographer, dancer and stuntman, Vincent quickly developed a passion for all movement arts. In 2013, he was accepted at the National Circus School to perfect his technique and develop a style of his own. Graduating in 2016, he starts his career as a professional with Les 7 Doigts and then with Cirque Monti, Cirque du Soleil, La marche du crabe, la Tohu… In 2018, he co-founded La Croustade, with his partner Eline Guélat, a multidisciplinary performing arts creation company that mainly directs its research and productions towards ludism.
Inspired by creation and experimentation, Bobby Cookson shapes his work by linking the physicality of movement to the textures and phrasing of music. It is this interest in mixing disciplines that leads him to the circus. After self-taught beginnings, he started competing in international Cyr wheel gymnastics competitions.  In 2017, he was accepted into the National Circus School and developed his abilities in other artistic disciplines. Since graduating, he has worked as a performer for renowned companies and as a mechanical designer for the Centre for Research, Innovation and Transfer in Circus Arts (CRITAC) at the NCS. In 2020, he co-founded the collective ILO (formerly LA Quadrature) and developed the show En Écho integrating live sound looping with acrobatic movement. In 2022, he co-founded the Collectif Cookson-Lachance and created the solo show Eklats.
To accompany these two graduates and expand the cultural and creative scope of future presentations, the NCS has also called upon Soleil Launière and Karim Troussi, two multidisciplinary creators known for their talent and the emphasis on the body in their work. These two artists, with an Aboriginal origin for Soleil and a Moroccan origin for Karim, share a passion for the emphasis on movement, theatricality and sound in the performances they stage.
Pekuakamilnu from Mashteuiatsh, Soleil Launière lives and works in Tiöhtià:ke – Mooniyang (Montreal). A multidisciplinary artist and director combining movement, theatre and song, she intertwines the presence of the two-spirited body with experimental audiovisuals while drawing inspiration from the cosmogony and sacred spirit of the animals in the Innu world. Over the course of her career, Soleil has created several performances for Aboriginal and non-Aboriginal artistic gatherings and events in Canada and internationally. Between 2019 and 2021, she presented her first production Umanishish and she also co-directed Courir l'Amérique, played at Théâtre Quat' Sous. Finally, since July 2020, she has been at the head of the company she founded, Production AUEN.
Using a playful and reflective approach to encourage creative learning, Karim Troussi sees himself as a facilitator. Director and teacher, he began his artistic career in Morocco before moving to France to deepen and complete his training at the Conservatoire National Supérieur d'Art Dramatique de Paris. He quickly became interested in the physical and sensory aspects of acting as well as the fundamentals of acting. Always eager to further his research, for the past 30 years he has been developing his work around the theme of the body, the performance and the perception, centered on the actor's bodily sensitivity and autonomy. Teaching at the Comédie de Saint-Etienne, and the National Circus School SHEMS'Y in Morocco, he shares his knowledge with students from around the world. He is also the co-artistic director of the Compagnie du Jour in Grenoble and the artistic director of the Karacena circus company in Morocco. Today he has more than forty productions to his credit.
Finally, to close the list of creators, NCS invited Benoit Landry, a renowned Quebec artist with a career divided between creation and interpretation. His passion for mixing theatre and music has made this director a reference in the performance world.
Benoit Landry is a director, actor, musician and singer. His professional career has led him to work in various fields: theatre and music, from which he comes, but also circus arts and dance. He has directed some twenty productions, including Après la nuit (Montréal Complètement Cirque) and Serge Fiori – Seul ensemble, Sept moments de joie Céleste (Cirque Éloize). He is also a television director, notably for the program En direct de l'univers presented on Ici Radio-Canada. Since 2003, he has worked as a performer and musical designer in more than 40 productions in Montreal and on tour internationally. He is also the co-founder and artistic director of the multidisciplinary creative company Nord Nord Est.